The average B2B customer completes around 57% of the buying process before ever even engaging with the vendor. 
In this process, review sites like G2 play an indispensable role, offering the increasingly suspicious buyer unique insights into products – from actual customers.
But it doesn't end there. Review sites are a two-way street. Not only are they a boon to cautious buyers, but they are incredibly beneficial to vendors. Customer feedback in reviews can be used to improve product features, onboarding, and support, as well as help perfect messaging and positioning.
On the go-to-market side of things, G2 helps drive site traffic, generate pipeline, offer valuable buyer intent signals, build brand loyalty, and shorten the length of your sales cycle.
This is why we here at Dreamdata have implemented a strategy that squeezes as much value as possible from G2. This playbook walks you through 5 simple steps we've taken to get the most out of our G2 reviews.
Step 1: Learn from your reviews (the ultimate customer feedback)
G2 offers a fountain of fresh reviews directly from your users, and with them, invaluable feedback on everything from product features to onboarding.
Despite this, most companies leave G2 strictly under the purview of marketing teams (and perhaps also sales), leaving the feedback to get lost in the noise.
You need to think of G2 reviews, especially substantive ones (more on this in step 5), as a free source of feedback that will save your product manager, UX designer, and customer success (CS) managers tons of time.
Furthermore, marketers and go-to-market leaders can also put their messaging and positioning to the test by analyzing G2 reviews. Are customers solving the problem you intended them to solve? Are you in the right category? Is there a smooth product-market fit? The answers lie in what customers are saying on their own accord.
At Dreamdata, we've introduced a structured process to ensure we make the most of G2 review feedback.
How to get value from the feedback in your G2 reviews
To get the most out of your customer feedback, you need to set up a process for sieving through reviews and passing them along to relevant teams. This entails four steps:
Assign a gatekeeper. You first need to assign a gatekeeper to review the reviews. This is someone (or a team) who frequently goes through your latest G2 reviews and identifies the different elements of useful feedback in each.
Sort reviews. This feedback then needs to be sorted into the relevant areas of the organization. For example, feedback on a product feature should come under product, onboarding feedback under CS, and so on.
Send feedback to relevant teams. You then have to set up an appropriate process for getting the feedback to the right stakeholder to ensure they aren't forgotten or ignored.
Follow-up with the customer. At times, reviews can lack detail. So in situations where there's good feedback coming through, but lacking the necessary detail to action, reach back out to the customer and ask if they'd be willing to walk you through the issue. Plus, as we'll discuss in step 5 below, responding to reviews is always good practice.
Step 2: Incorporate reviews and badges into your marketing
Reviews are also valuable as a marketing tool in their own right. Nick Bennett said it best when highlighting that "a happy customer is the best advertisement you can get". There's little else that can beat actual users of your service or product offering their opinion. Reviews give the validity and social proof buyers are looking for. 
In this way, we think of G2 as a portal of (mostly) happy customers giving you free ads. 
And the best thing is that G2 makes showcasing them as easy as pie with simply links, badges, and widgets to use wherever you please. So basically, there's no excuse not to.
How to use G2 Badges and reviews to boost your marketing efforts
Our team has integrated G2 Badges and reviews in virtually every available channel to great effect. Here's how you can use G2 to boost your marketing initiatives.
92%
of consumers won't make a purchase if a website doesn't have a trust badge or logo.
Source: G2
G2 Badges
As you accumulate reviews, you'll become eligible for G2's "Best Of" lists. Then, G2 will start showering you with Trust Badges. Use them.
G2 Badges not only give proof of how you're ranking in your categories, but they also highlight the aspects of your product and services which have really clicked with your reviewers. What's more, G2 Badges have become recognizable to virtually everyone in the B2B space, meaning that they themselves offer an extra layer of validity and social proof.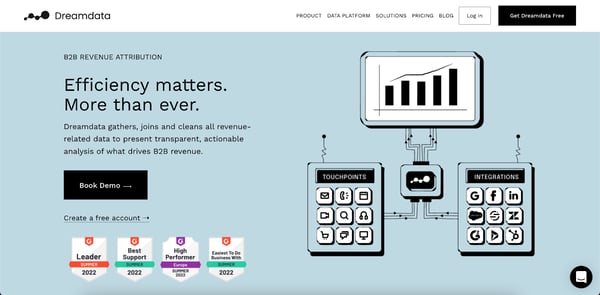 Here is a short list of where you can add your badges:
Website homepage

Social media profile banners

(both for the company's profiles and employees', provided they are fine with having it, of course)
Ads (Google, LinkedIn, Facebook, etc.)
Organic social posts – including memes, like this one: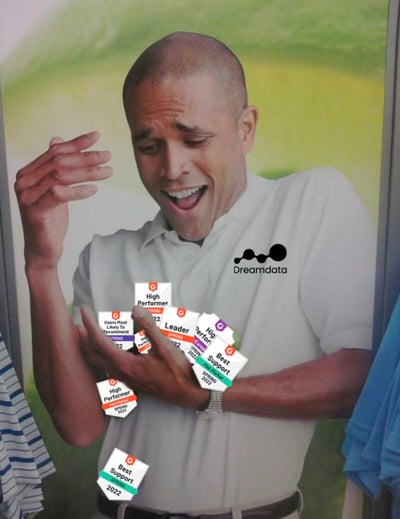 G2 Reports
Beyond the badges, G2 Reports are also a useful source of inspiration for blog posts. These can showcase how well your company is doing in relevant categories or provide backing for product and feature posts.
User reviews
Using extracts of reviews in ads or organic social media posts is another great way to market your product.
Step 3: Use G2 Buyer Intent data to speed up pipeline

This B2B go-to-market benchmarks report shows that B2B customer journeys where a review site is the first touch are 63% shorter than the average. This can be due to a number of factors, not least how the journey is measured. 
But a few things are certainly true of review sites like G2: buyers have a one-stop shop for researching and comparing competitor brands, cutting short the time-consuming process of doing this through a search browser.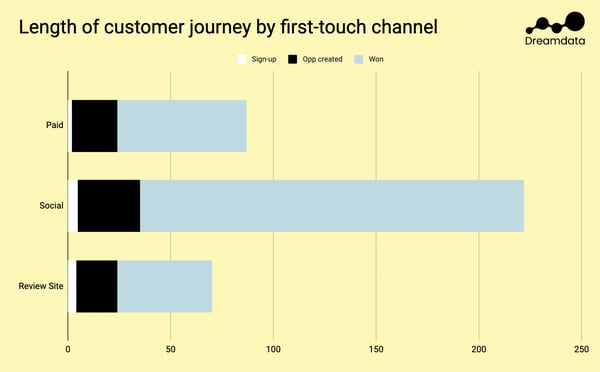 But it gets even more interesting. G2 Buyer Intent data is available to vendors, and if used to its potential, is a great hack for vendors themselves to speed up their pipeline.
How to speed up pipeline with intent data
This step requires a more technical application, but as we have found at Dreamdata, the benefits are worth it.
To get the best use of your G2 intent data as a pipeline accelerator, you need to combine it with site tracking data and data from tools across your go-to-market tech stack to get a clear picture of what B2B customers are doing. 
There are off-the-shelf tools, like our own Dreamdata platform, which allow you to easily connect your go-to-market data. Once you've got a detailed customer journey map that shows what customers and prospective buyers are up to, you'll be able to:
Set up marketing retargeting campaigns (think ABM). If we see an identified account has been reading our reviews or comparing us on G2, we're able to set up a highly personalized retargeting campaign across ad platforms.
Conduct sales outbound outreach: Intent data helps us better understand customers' intent, and to some extent behavior, which offers a cheat sheet for any outbound outreach.
From the visited URLs, you're able to learn which companies are researching your product, category, and competitors on G2, so you can hit them up with personalized and timely outreach. Together, these efforts will help speed up your sales cycle and ultimately generate more revenue.
Step 4: Measure the influence of G2 on the B2B customer journey
As with any go-to-market motion, your G2 efforts need to be measured in terms of impact on pipeline and revenue.
Are the leads coming through G2 actually going on to purchase your product? Are you performing in all relevant categories? Without this certainty, you are unable to confidently assess what parts of your G2 activities you should continue running, and which might be worth doubling down on.
As an attribution software provider, we take performance measurement pretty seriously, and tracking our G2 efforts has helped us boost our ROI on these activities.
How to boost performance by measuring G2 efforts in pipeline and revenue generated
Like most go-to-market motions, the trick is to scrap what's failing and repeat (and scale) the efforts that are bringing value. That's why attribution tools like Dreamdata are now integrating G2 Buyer Intent into the go-to-market data mix.
Tying G2 to pipeline and revenue requires that you connect the data from across your go-to-market tech stack, including your automation, ad, and customer relationship management (CRM) platforms.
Analyzing G2 efforts
Once you've got data flowing and reports set up to make sense of it, you can analyze which deals and how much revenue G2 has impacted. Then you need to:
Identify which activities performed best, including which categories are doing best.
Assess what your current rankings are in these different categories via your G2 account.
Collect more reviews with a focus on these categories.
Repeat and watch demand for your product grow.
Step 5: Keep those reviews coming in
All the previous steps are (obviously) dependent on reviews. Whether it's getting fresh feedback on product releases, collecting sleek new badges, or getting valuable intent data, you need to keep reviews coming in – and your ranking in your software categories up.
And this isn't just a static race-to-the-top-and-forget-about-it process. G2 Grid Report rankings are weighted by the freshness of reviews (i.e. how recent they are). So you need to keep them up consistently.
At Dreamdata, we've tried to cast the widest possible net to capture reviews, and are pretty chuffed with the results so far.
How to keep G2 reviews rolling
There are four main tactics for ensuring diversity in your review asks and keeping them flowing steadily: 
Always-on reviews: Find space on your site and/or email flows to incorporate an open invite for customers to review. Again, G2 makes it easy with widgets.
1-1 outreach: There's nothing like in-person (or online) asks. Try introducing review requests in onboarding flows, post-sales catch-ups, or during similar processes. Your customer success team is likely your go-to for this process.
Automated campaigns: Set up a dedicated campaign on your email, chat, or even paid ads to spur customers to write reviews. (Psst: this might come in handy when getting close to the quarterly G2 Reports.)
Responding to feedback: There's also a lot to be gained from replying to reviews. Add a comment with a response and a word of thanks to make the reviewer feel valued. 
Playbook summary: get the most value from your G2 reviews
Our experience at Dreamdata has taught us the awesome value of G2 reviews. In this playbook, we've walked you through 5 simple steps we've taken to get the most out of our G2 reviews.
Key takeaways
Dreamdata's 5 steps to get the most of G2 reviews:
Step 1: Learn from your reviews (the ultimate customer feedback)
Step 2: Incorporate reviews and badges into your marketing
Step 3: Use G2 Buyer Intent data to speed up pipeline
Step 4: Measure the influence of G2 on the B2B customer journey
Step 5: Implement an always-on review strategy to keep them coming in
Set up an internal process for pushing feedback from reviews to the respective teams. Leverage G2 Badges and reviews in all aspects of your go-to-market strategy: on your website's homepage, product pages, and conversion pages, on your display ads and social ads, and in your organic social media activity.
Additionally, your intent data (and data from across your go-to-market tech stack) can help paint a detailed picture of your customer journey. Use these insights to ping your leads with personalized and timely outreach and tailored retargeting ads.
Track the performance of all your G2 efforts to know what's working and what isn't. By measuring performance, you can scrap what isn't working and scale the best performers.
And remember: all of these steps hinge on reviews. Whether it's getting feedback on your latest feature release or ranking as a category leader on the next Grid Report, you need reviews. Add review prompts to email flows and onboarding processes, set up a dedicated campaign, and you're guaranteed to have all of G2's benefits flowing for years to come!
Whether it's using customer feedback to improve product features, drive traffic, or generate pipeline, G2 reviews are an indispensable weapon in the B2B armory.
Ready to kick off your review campaign? Get users to share authentic, marketable feedback about your products and services with G2 Review Generation.