While SEO is an important strategy for any business looking to grow, focusing on improving your local reach can have a big impact on your sales. 
In fact, nearly 46% of all Google searches are looking for local information. A strong local SEO strategy that is part of your marketing plan can help drive those searchers to your business.
What is local SEO? Local SEO is designed for businesses that service a limited geographical area and need to improve their SEO through technical and content optimization strategies. 
Why is local SEO important? Take a look at these statistics from Hubspot: 72% of consumers that did a local search visited a store within five miles. Nearly 88% of searches for local businesses on a mobile device either call or visit the business within 24 hours. 
By not prioritizing local SEO, you could be missing out on bringing potential customers in your own community into your sales funnel. And there's no greater word-of-mouth referrals than people in your own community.
Below we'll dive into the role search engines play in gaining local organic traffic and how a marketing company that specializes in local SEO can help you meet your business goals.
How Google Search Works
Many believe that when they type something into the Google search bar, Google performs a live search. In reality, Google begins searching a stored copy of all the sites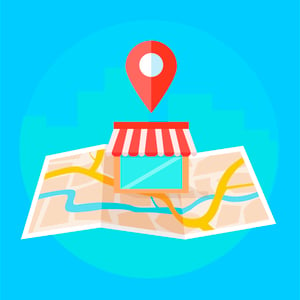 the search engine has indexed. This is called the Google Index. Think of it just like a library. A library indexes all the books it has available for use; Google does the same thing with websites.  
To create this index, Google crawls the web, looking at every page, including all content and links. As all this content is explored, it's stored on Google's servers, essentially creating an index. Google continuously updates its process that determines how it ranks sites, called algorithms. 
So when a potential customer searches for a product or service that you offer, Google will check the index that it created and provide the customer with a list of websites that match their search. These results are ranked based on not only relevance but other factors like authority or expertise, the readability of the page, and the physical location of your business. These are only a few of the approximately 200 factors Google uses in its algorithm to rank websites.
Why does location matter? Google knows that when people are seeking a product or service, they likely want search results from their immediate area. A customer doesn't even have to include "near me" in the search field. Google automatically takes into account the location of the searcher.
Often, people aren't sitting at home looking up a product or service that they need. They're on the go, and Google knows customers need information relevant not only to what they need, but where they are as well.
According to Think with Google, 4 in 5 consumers use search engines to find local information. If you are a company with multiple locations, it's a good idea to build local landing pages for each location. These landing pages should include specific addresses and phone numbers, and you should optimize different parts of the site like title tags, meta descriptions and content.
Both on-page and off-page optimization are important. On-page optimization focuses on how well your website design and content perform , while off-page optimizations focus more on strategies like link building, which is the process of getting external pages to link to your website. 
Finally, consider including Google My Business in your SEO plan as well. GMB is a free tool that lets you manage how your business appears on Google Search and Google Maps. Maintaining your Google business profile can also help you perform better in your local search engine optimization efforts.
How A Local SEO Agency Can Help
Local SEO services can increase your visibility and help potential customers find your business. Here's what an experienced SEO agency will do.
First, the agency may perform a site audit. This is the first essential part of the process and involves performing an in-depth analysis of your website's strengths and areas of opportunity.
Then, the SEO company should conduct keyword research to help find effective keywords that will help your business rank higher, drive more traffic and get the results you want.
With this information, a SEO agency will create a personalized strategy for your company. This digital marketing plan will be personalized to your business goals and expectations.
The best SEO services will also build backlinks to your website through quality content and link placements to increase your online authority.
Content is also key, which is why an SEO team should create valuable content to ensure your target audience sees relevant information that will influence their interactions with your site.
Lastly, SEO services should include monthly reporting so you can measure audience growth, track rankings and analyze conversion funnels for KPI performance.
Local SEO SERP Options
If you don't have a marketing budget that includes hiring an SEO expert, you can do DIY SEO to help improve your local search engine optimization. However, if you are not familiar on how to use these options, hire an SEO expert! Otherwise, you could mess up whatever search rankings you have already gained and ruin your chances of gaining any future search results. These SERP features, or search engine results page features, add new elements to the typical search result format. They provide a more user-friendly experience for a potential customer using a search engine.
Some popular SERP features include:
Local Pack
Site Links
Indented Search Results
Reviews
Knowledge Graph
Local Pack
A Local Pack appears in SERPs when a query features words like "near me" or "in (insert city)." The Local Pack usually appears at the top of the search engine results page under the AdWords results and consists of:
A map with pinned locations
A five-star scale that shows the rating for each location
Three search results (some may be ads)
Ranking for a Local Pack position is a fantastic way to get ranked for high keyword difficulty keywords in organic search results. 
When users click on the business name in the Local Pack, they will get a Google Business profile listing on Google Maps with additional details about the business including website address, hours, phone numbers, Q&A, popular times and reviews.
It's important to optimize your Google Business Profile account to get into local listings, as well as standard SEO tactics like page speed optimization and mobile friendliness. 
Site Links
Site links are special links that Google places near the top of a search results page to allow a user to quickly navigate to a specific part of a website. For example, if a user searches for a bank, the sitelinks that Google provides may be "Log In" or "find bank locations." 
It's important for a website to have an easy navigation system that Google can understand. When designed with a friendly navigation system, your website can even get a Site Links Search Box that you can power using your own website's internal search engine. 
Indented Search Results
Relatively new, indented search results can help companies even if their site doesn't appear in the No. 1 spot of search results.
When a user searches for a product, such as a luxury watch, under the initial search result is an indented secondary result. Instead of occupying one space on the search engine results page, your product now takes up two spaces. These indented searches can include a variety of links, from blog posts to product pages and e-commerce sites. 
In addition to getting more than one page result, you may also be pushing any competitors to page 2 since there are only so many results that fit on page 1 … a huge advantage to your business.
Reviews
Studies show that search results that have reviews with them can feature a higher average click-through rate (CTR). Review snippets feature a yellow star rating and possibly an image. You can typically get this feature if your customers can review your products or services and if your page's content is easy for Google to understand.
Google will check to determine whether the reviews are credible and appropriate for the web page. 
Knowledge Graph
A knowledge graph powers a knowledge panel, which provides a quick overview of people, places, things, significant dates or topics. This panel usually appears at the top right corner of a SERP and at the top when viewing a page on a mobile device.
In other words, a knowledge graph is a machine-readable encyclopedia of facts. It enhances a SERP's results with information that appears in these panels, establishing a relationship between your business and these facts. 
While these do-it-yourself tools allow you to take SEO into your own hands and save some money in your marketing budget, it's important to note that each of these strategies require some level of expertise. 
Should You Rank #1 In Google Search Results?
The simple answer is of course yes, and the data seems to prove it.
The #1 result in Google's organic search results has an average CTR of 27.6%.
The #1 organic result is 10x more likely to receive a click compared to a page in the #10 spot.
However, what if you are trying to rank of a keyword has that a difficulty score of 99? The chances of you ranking in the number one position to achieve the results above or slim to none!
You need to find other ways to rank for keywords that have a better chance of ranking and bringing you targeted traffic. More on this later.
Business owners may not have the free time required to not only learn about each of these SEO tools, but also get the most out of them. In this case, a local SEO agency can increase your visibility and help potential customers find your business. You also have the option of beginning with the DIY approach. Once you have SEO basics down, you can later decide if you should take optimization to the next level by hiring an SEO expert. 
But is this enough?
SEO With A Full Marketing Approach
A local search engine optimization agency is a great resource for boosting your visibility in search engines, but it may not be exactly what your company needs to grow. 
A full-service digital marketing agency can improve your SEO but also create optimized content, improve outreach, create a strong social media presence, develop your web's design and help you reach your long-term business goals.
While SEO marketing can help get your web pages ranked, it's important to note that this strategy alone doesn't always mean leads for your sales team will follow. SEO marketing is just ONE PART of generating leads. SEO is not the sole answer. 
Think of it this way. Local SEO increases visibility and draws people to your website. Once they get to your site, if you don't have the right tools in placelead and support them through their buyer's journeys, they'll move on to another local company's site in search of the answers they need.
If you have a comprehensive marketing startegy like inbound marketing in place, you are better set up to attract potential clients by creating valuable content and experiences tailored to them. Inbound marketing forms connections customers are looking for and solves problems they already have.
As a business, you and your potential customer will go through four stages of the inbound methodology:
Attract, which is how you will bring the ideal customer to you using the right messaging and tools, such as the content you produce and SEO strategy
Convert, which is the process when casual content consumption evolves into a more meaningful relationship using a combination of tools, such as analytics, segmentation and automation
Close, which is when you turn the most qualified leads into sales qualified leads
Delight, which continues to nurture with high-value content to increase loyalty and customer lifetime value
SEO strategy is part of the attract stage and is just one part of the overall strategy that leads potential customers through their buyers' journey. 
While a comprehensive SEO strategy that focuses on your local area can be an effective way to increase your online presence and visibility, a marketing firm will continue that process by setting you up for long-term success, helping you convert the leads you are attracting into sales.