"What are brand ambassadors and how can they help promote your business?"
Most small businesses ignore a secret salesforce of fans and unused brand ambassadors.
There is no solid brand ambassador definition, instead, it's more of an understanding.
A brand ambassador helps promote your brand and products to their own network of friends, family, and followers. These people serve as brand advocates who generate brand awareness across their communities and social media accounts.
Most brand ambassadors have their own businesses, jobs, and careers in a wide range of industries. The one thing they share is using your product or service in their business.
As a small business owner, it's easy to understand why having an army of brand ambassadors could be useful for you but is it for you and how do you get started?
What are the benefits of having brand ambassadors?
Most small business owners, solopreneurs, and local businesses have a group of raving fans and get most of their business by referral, but they aren't taking advantage of harnessing these fans to become brand ambassadors.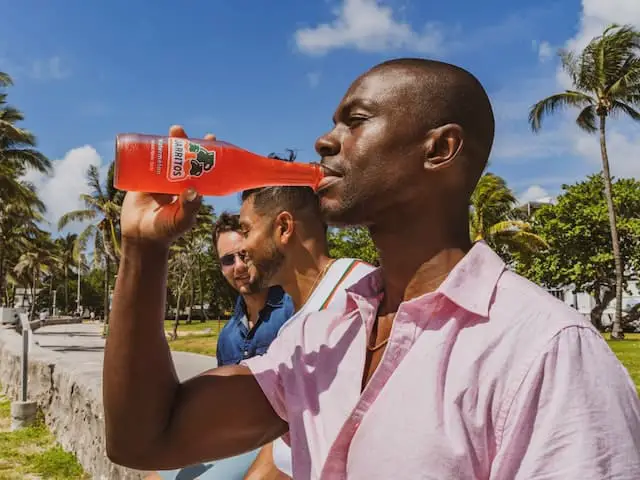 While you, as the business owner are active in your communities, brand ambassadors are active and influential in their own communities.
Brand ambassadors can help you reach new audiences via their social media platforms. With your brand ambassador in the field, he or she will be able to bring your product or service directly to his or her audience.
You'll be able to reach people who have never heard of your company before, and you'll provide them with a direct experience that will encourage them to continue interacting with you in the future.
What's the difference between a brand ambassador and an influencer?
Let's take a look at the differences between brand ambassadors and influencers.
Both brand ambassadors and influencers like and use the brand.
Both are chosen because they have an audience the brand wants to reach.
Influencers are chosen for reach.
A good brand ambassador is chosen for their passion for the brand.
Brand ambassadors choose the brand, influencers are chosen by the brand.
Brand ambassadors create organic content, influencer are paid to run campaigns.
Influencers tend to have formal contracts and agreements while brand ambassadors may simply get access to the product or service.
These are gross generalizations to help you understand the subtle distinctions. In essence influencers and ambassadors are very similar.
Don't forget about your employee brand ambassadors!
Are you a great place to work? Do customers choose you because of the great customer experience that you provide?
Create a brand ambassador program for your employees!
Happy employees are brand representatives — by definition. They have social media accounts and are doing a brand ambassador's job without being recognized for it.
Make it easy for your employees to talk about your brand positively.
Here are a few things you can do as an example of employee brand ambassador programs.
An employee ambassador program doesn't have to be this formal complicated thing. Simply make it easy for them to be a brand ambassador. Here's how
Provide free swag: Make sure that your employees are armed with T-shirts, mugs, pens, and video backdrops.
Draft branded talking points: ASK your employees to share what they love about your brand. Do NOT give them these points, get THEIR insights and words and put them all together into one document. While you're at it, you can collect insights about those elements of your business that you can improve to add to that list.
Empower them to give access:
Here are some examples:
Coaches and consultants: If you're teaching entrepreneurs to "make millions" enroll your employees or your team in your programs and help them be successful.
Local businesses: Arm your employees with coupons, VIP specials and offers to share with their communities.
How much do brand ambassadors get paid?
When it comes to recruiting a brand ambassador, it's important to set clear expectations of what you'd like them to do and how you're going to pay them.
As someone who is both a brand ambassador and an influencer, I'm going to share a few ways that I get compensated by brands.
If you're thinking of being a brand ambassador, this section will help you as you research how to structure your brand ambassador role.
Pay for content or campaign
It's popular to say that brands pay for access to your audience. But, the instant a brand expects specific content posted a particular way within a specific amount of time — you are NOT paying for access, you are paying for content.
Creating content takes time and effort, and that's what you're paying for,
Here are a few different types of content and some basic price ranges:
Social posts: $50-$500 per post
Article or blog post: $500 – $2500 depending on length and promotion requirements.
Videos, Webinars, and Presentations: $500 – $5000 depending on content development.
If you are in a business that has to conform to specific laws or the brand ambassador's content needs to go through any type of legal review — expect to pay more.
Free product or VIP access to the product
This is another favorite of mine, especially for tools that I use day in and day out.
When you provide free access to a tool, software, or product that the brand ambassador uses, the understanding is that this person will mention your brand regularly on social media.
Because the brand isn't paying for content, it's up to the brand advocate to mention the brand when it's appropriate to recommend them.
In-kind promotion and support
Brand ambassadors are always building their personal brand and their own company's reputation. And that means that you can create a reciprocal relationship or partnership with your company.
Here's what that looks like:
Promote their content to your audience — especially if they are sharing something that was created with your product or features your service.
Link to their articles from your website. Some name brands have strong domain authority and linking to your brand ambassadors can really add priceless value to them.
Comment on their social posts. Brand ambassadors live and die by the engagement on their channels. When you see any of their content, engage with it, share it, and promote it to your community.
These are just a few ways that you can get into a relationship with an ambassador, or, if you want to be an ambassador, this is what you can expect in terms of compensation.
How can a small business work with a brand ambassador?
Use them to promote your product.
If you have a new product and want to get people excited about it, hiring a brand ambassador can help you do that. They can share photos of the product and inform customers about how great it is. In addition, they may be able to organize giveaways or contests where people can win free products.
Use them as in-person advertisements for your business.
If you don't have enough money for billboards or ads on TV, hiring an in-person advertising professional might be right up your alley!
These pros will dress up in costumes or wear buttons with logos on them so that everyone who sees them will think of your company when they see their logo again later on.
You'll reach more potential customers by using this kind of service (and there's no rule against doing both!).
Use them to advertise your brand name via social media posts or blog posts
Find someone in your industry a strong personal brand and a decent social media following. This could be a popular journalist, author, or expert in your industry. They don't have to be a celebrity, they just need to enjoy talking about your product.
A good example of this is Microsoft's MVP program. Microsoft identifies expert users of Word or Excel and engages them as a brand representatives without actually paying them directly.
How to find and recruit brand ambassadors
There are many ways to find and recruit brand ambassadors. Here are some of the best options:
Social media
Some people might think that you can only find brand ambassadors on social media, but this isn't true. For example, if you're looking for ambassadors in your community, you can post ads on Facebook or Instagram to reach local residents. If you want to reach college students at a nearby university, try posting an ad on Snapchat or Instagram Stories that says something like "Are you someone who loves craft beer? Get paid to drink it!" You'll get lots of responses quickly!
Your community
Another way of finding brand ambassadors is through referrals from your current customer base—they're already familiar with what kind of person would make a great ambassador for your company so they know who'd be good at talking about all the benefits that come along with being a part-time employee (for example: getting invited out for drinks at bars).
Use social media tracking tools
I have two amazing tools to identify people who mention your brand.
Let me show you how that works. (see what I'm doing here?)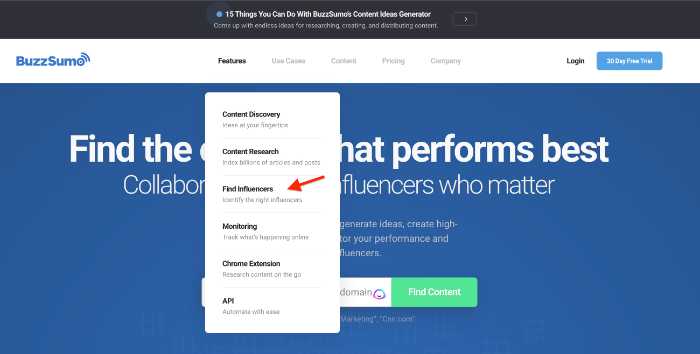 BuzzSumo has a nifty feature that you can use to start your brand ambassador research. It's called "Find Influencers". Use this as a place to start. If you search influencers, be sure to check each person, follow their content and make sure that they are engaging in a way that makes sense for your company.
Here's an example of a basic search of influencers on Facebook: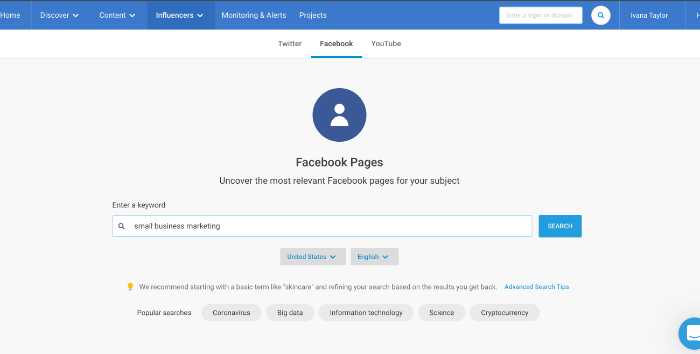 It's important that you use the keyword phrase that you want to be known for.
In my example, I've also chosen a location (United States) and a language (English).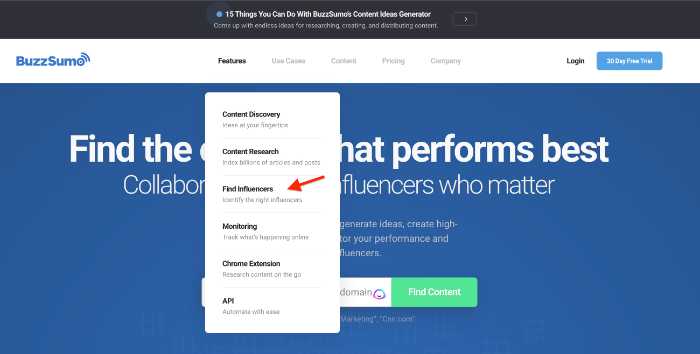 BuzzSumo will give you a list of "influential" accounts based on your search term.
Notice that it's pulling the information from Facebook Page descriptions.
You'll see a mix of both company and personal accounts.
Again, be sure to visit each account and see what's happening on that Facebook page. Check the engagement and the content.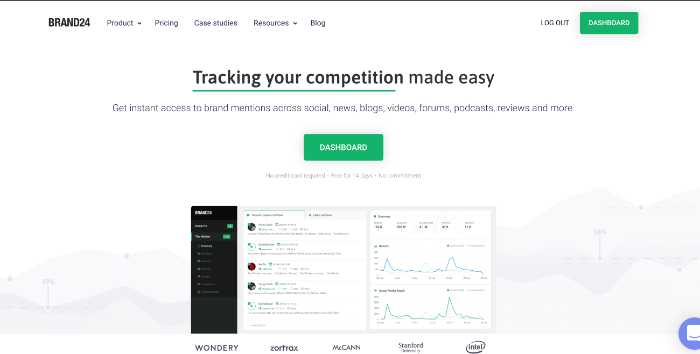 Brand24 is another one of my favorite tools for tracking brand performance and finding people who "own" a conversation.
Let me show you a little about what I mean.
Brand24 is a great tool for tracking brands, products, hashtags, topics, etc.
In this image you can see that I'm tracking a variety of popular terms and topics in the small business marketing space.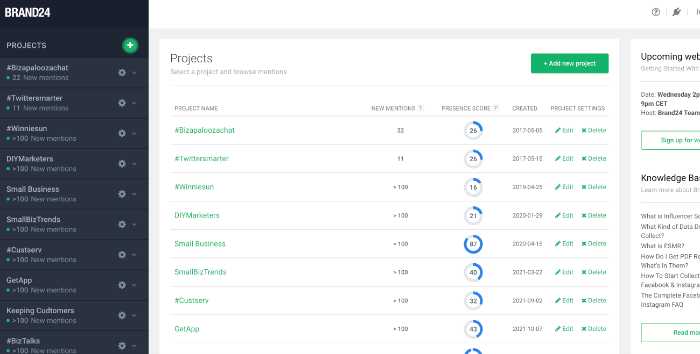 If I want to see what people or companies "own" or are experts in a particular conversation, I can create a project to track that term.
Then I can look and see who is most active in that conversation.
In this example, I'm going to choose my "Keeping Customers" topic with the keywords "customer service" and "customer experience".
Brand24 also has a "find influencers" feature.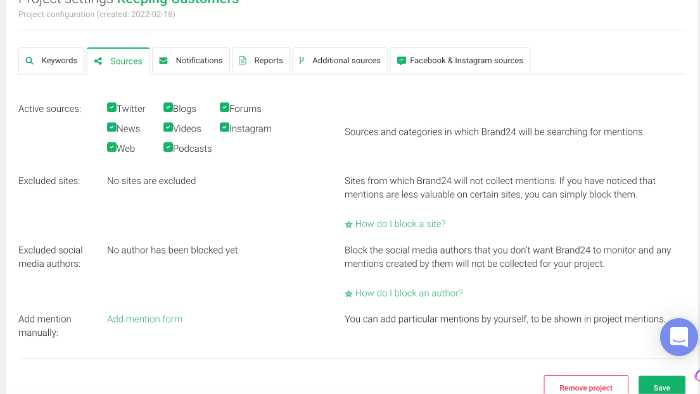 If you're a small business, there's a good chance that you're not going to reach out to some of these big brands.
Luckily there's a handy search function that will help you narrow down your search.
Brand24 will pull together mentions from Twitter, Facebook, forums, videos, and more.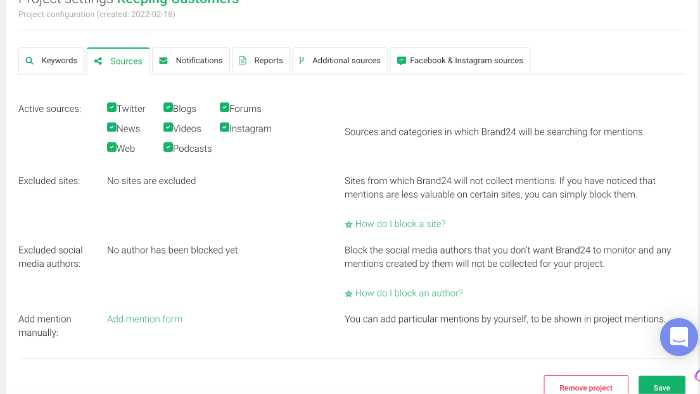 Again, neither of these tools is perfect, but it will give you a place to start when thinking about who you want to connect with and explore.
How can you become a brand ambassador
The best way to become a brand ambassador is to take note of what products, services, and software you use most often and recommend.
If you're interested in becoming a brand ambassador, there are many ways to get started.
The first step is to consider the benefits of being a brand ambassador. You'll be able to build relationships with companies and brands that align with your values and interests, gain experience working for multiple companies at once, and earn money as an independent contractor by helping promote different products or services. Once you've decided what kind of business fits best with your goals, begin applying for positions!
As long as you're passionate about working in this field and have relevant skills that match up with what employers need, there's no reason why they won't hire you (especially since they will likely be paying them).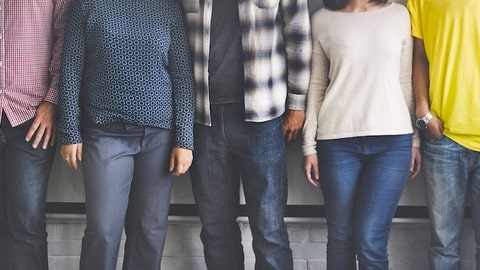 Udemy: Become a Brand Ambassador
Have you ever seen people handing out samples of a product at a festival or street fair? How about that person sampling food at a grocery store? What about a car show model or a person dressed as a mascot posing for pictures?
Did you know NONE of these people actually work for the companies they are representing?
THEY ARE BRAND AMBASSADORS PAID TO REPRESENT COMPANIES AT PUBLIC EVENTS!
With an average income of $20/hr for 4-12 hour events, brand ambassadors can expect to have the freedom to choose their own schedule as well as a large increase in monthly side income! 
Side jobs like Uber or food delivery have the potential to make you money, but so many people are applying to them that it's getting harder every day to actually achieve success. 
Buy Now
We earn a commission if you click this link and make a purchase at no additional cost to you.
How Does a Brand Ambassador Program Work
A brand ambassador program simply means that you recognize that you have a community of people who are happy to help you raise brand awareness.
Here is all you need to start your brand ambassador program:
A statement that outlines your basic goals for the program.
The primary goal of brand ambassador programs is to build awareness to a broad audience and not necessarily generate sales.
How you will measure brand ambassador performance.
Again, the idea is to build awareness and engagement (not sales per se).
Create a unique hashtag for them to use on their social media.

Provide tracking links (affiliate links) they can easily access and use when talking about your brand.
Create searches or trackers on social media platforms so that you can see when they mention your brand online.
What to provide your brand ambassadors
Create a brand image library they can easily access.
Send them emails with updates and images and any links they can use for brand promotion.
Keep them updated about the new things in your business that will interest their audience.
Have a contact inside your business who they can reach out to.
Conclusion
Whew! That was a lot of information. If there's anything I hope you got from this, it's how effective brand ambassadors can be in getting the word out about your business.
From the perspective of traditional marketing, brand ambassadors are word-of-mouth marketing referrals on steroids.
If you haven't already, consider building relationships with brand ambassadors and influencers in your industry.
Start small, just find people, and get to know them. Promote their content and if possible, give them access to your product or service. You get your feet wet and build from there.