As many small businesses have begun to exit "survival mode" after the pandemic, they are looking forward with high hopes and goals for the future.
While the ongoing impact of Covid-19 is still affecting many companies in different ways, the pandemic has spurred many business owners to plan ahead and set goals for the growth they want to accomplish. A recent survey among business owners found that goal setting is a greater priority now than in previous years.
The results showed that 88% of surveyed businesses are participating in financial goal setting, while 68% are developing five-year plans.
Yet there's one barrier to growth that all businesses face: Finding and landing customers.
Considering that cost is one of the biggest barriers to finding customers, setting this goal and accomplishing is likely easier said than done. In fact, Hubspot reports that the cost of acquiring new customers increased almost 60% over the past six years.
Add in the challenges of today's online world, small businesses may face an uphill battle. That's why having a marketing agency that has the time and resources available to you in your corner is key to success. 
Here are three reasons you should be hiring a marketing agency in today's competitive and challenging market.
An agency will rejuvenate your marketing strategy and generate new revenue
An agency will save you time and money
An agency will align your marketing and sales teams
An Agency Will Rejuvenate Your Marketing Strategy And Increase Your Revenue
Social media is now the No. 1 channel used in marketing, followed by your website, according to Hubspot.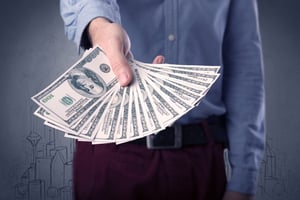 The explosion of social media networks and the rise of using the internet for product research has completely changed the ways companies target their prospects. Gone are the days when placing an ad in the Yellow Pages guaranteed your phone would be ringing off the hook. 
If your marketing strategy involves outbound marketing methods like cold calling, commercials, print ads, door-to-door sales and flyers mailed in bulk, your marketing plan is likely in need of a complete overhaul. 
Today, modern customers are armed with information at their fingertips by simply swiping up on their mobile devices or opening their laptops. Today's consumers expect real-time access to the information they need so that they can make buying decisions. In other words, consumers are in the driver's seat. 
That means you need to be ready so that when consumers need the type of help you can provide, they can find you. Your messages must be well-executed and easily found on the Internet, which is no small feat considering the staggering amount of competition you likely face. Inbound marketing agencies can help.
Marketing agency professionals know what works and what doesn't when it comes to attracting high-quality visitors to your site and then converting those visitors into leads. They have successfully executed strategies that include the use of modern inbound strategies and tools, including:
Graphic design work
SEO/keyword search
Market research
Mobile marketing integration
Content development
Targeted email creation
Website development and design
Social media marketing
Metrics and data analysis
With rapidly changing technology and techniques always on the horizon, experienced marketing agencies remain on top of evolving consumer markets. This can be a challenge for small businesses, that don't have the time to keep up with the latest apps and technologies consumers are using today. 
A digital marketing agency can develop a marketing strategy that works TODAY and evolve that strategy as changes occur in the marketing world.
No matter what marketing strategy is put into place, it must be tied to a specific goal. Whether that is increasing website traffic, increasing brand awareness or what most small business owners want, increasing revenue. Specific goals need to be set in order to understand the effectiveness of the strategy.
The strategy must also be tied to a return on investment so the customer can determine if they are getting their money's worth.
An Agency Will Save You Time And Money
As a business owner, time and money are likely two of your biggest concerns. You have a business to run, and the day-to-day operations of doing that successfully take up most of your time. 
Yet one of the most time-consuming parts of running a business is marketing. To launch a winning marketing strategy in today's competitive digital world, you need to wear several hats. You'll be a:
Copywriter
Graphic design artist
Marketing and keyword strategist
Website developer and web designer
Mobile marketing specialist
Marketing software expert
SEO/keyword expert
Social media specialist
Metrics data analyst
Mastering all of these tasks takes extraordinary talent, and the time needed to properly execute all of these tasks is nearly impossible for one person to do. If you're also running a business, it's unreasonable, if not downright impossible, to accomplish this alone. 
Many business owners realize this, and that's when they turn toward the option of hiring a staff to perform this work. However, hiring just ONE employee to cover ONE of these tasks above can cost more than hiring a marketing agency. 
Many owners fail to realize the true costs associated with hiring staff. Not only do you have to account for your annual base salary, but you must also add in expenses like payroll taxes, health insurance contributions, retirement plan matches, and vacation and sick days. There's also a cost that comes with recruiting and training employees. 
Let's take a closer look at what a marketing manager makes and how that compares to the cost of hiring a marketing agency:
Hiring A Marketing Manager Salary + Benefits

Core Compensation 1 Year
Base Salary – National Average
$109,331
 
 

Value Of Beneifts

Social Security
$6,966
401K / 403B
$3,292
Disability
$823
Healthcare
$6,595
Pension
$5,761
Time Off
$11,255
 
Total Compensation 
$144,023
Hiring A Marketing Agency

Retainer Agreement 1 Year
Inbound Marketing Monthly
$3,000
Software Subscriptions – Approximate based on needs
$1,000
 
Total Expenditure
$48,000
Annual Investment

Hiring An Employee
$144,023
Hiring A Marketing Agency
$48,000
 
Annual Expenditure Difference
$96,023
While these numbers reflect averages and salary medians, they give you a better understanding of the approximate costs of hiring just one employee. Inbound marketing agencies are built with professionals who specialize in each of these disciplines, providing you with an expert team of marketers and tools that grow your business.
You will also save money in upfront purchases and annual subscriptions to programs you need to put your marketing plan into action, including graphics programs, business metrics software and pay-per-click management apps. The cost of these programs can range from $1,000 to $5,000 per month.
An Agency Will Align Your Marketing And Sales Teams
A disconnect between marketing and sales teams can be one of the biggest hurdles for businesses to overcome. While some teams carry an "us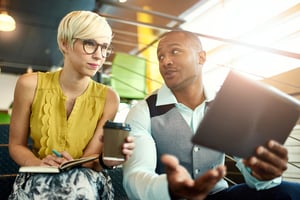 versus them" mentality, others struggle with simply communicating and staying on the same page.
Marketing, sales and service teams all rely on one another in order to be successful. If marketing doesn't send highly qualified leads to the sales team, sales team members can't close deals. If services don't live up to the brand image that marketing is promoting, a company will struggle to maintain its image and long-term customers. 
A quality marketing agency creates a plan that everyone can get on board with and work together to achieve results. It's essential for all members of your team to see the picture … what everyone is working toward achieving together. But if they can't see that big picture, how will they understand the role each person or department plays? 
Marketing agencies do more than simply create content or get a website up and running. The best marketing agencies create a vision – a vision that interconnects goals and encourages each member of the team to play an important role in achieving those goals. 
A Long-Term Strategy
An effective marketing plan produces results, but you don't want those results to be a one-time success story. Instead, you want long-term results for your investment.
An experienced marketing agency will put into effect a plan that ensures your investment produces high value and generates new revenue. 
An agency will also save you important time and money as you work to grow your business from the inside by providing your teams with the tools they need to convert leads into customers together as a driving force toward success.